---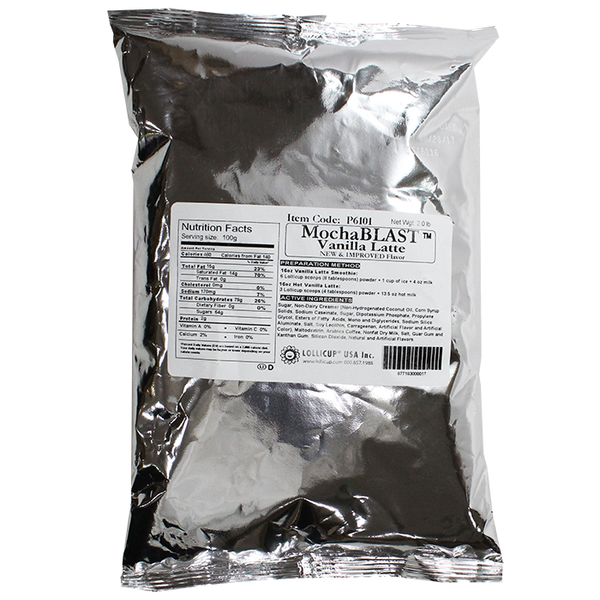 Enhance your beverage menu with MochaBLAST Vanilla Latte Powder. Our MochaBLAST powders consist of premium ingredients including Arabica Coffe and will be a treat your taste buds will be ecstatic for.
UPC Code: 877183000017
Units Sold By: Bag (2 lbs)
Ingredients:
Sugar, Non Dairy Creamer (Non-Hydrogenated Coconut Oil, Corn Syrup Solids, Sodium Caseinate, Sugar, Dipotassium Phosphate, Propylene Glycol, Esters of Fatty Acids, Mono and Diglycerides, Sodium Silico Aluminate, Salt, Soy Lecithin, Carrageenan, Artificial Flavor and Artificial Color), Maltodextrin Arabica Coffee, Nonfat Dry Milk, Salt, Guar Gum and Xanthan Gum, Silicon Dioxide, Natural and Artificial Flavors.
8oz Double Wall Hot Cup (220ml) 500ct
Fits approx 230ml
Cup diameter at top=80mm
Cup diameter at bottom= 57 mm
Cup height= 90mm
Inside 320 g/sqm paper, outside 300 g/sqm paper
Full 4-color print CMYK
Odorless, tasteless, food safe ink
Fits any 80 mm standard lid
25 cups per PET bag
500 cups per box, 18x23.6x14.2, 22lbs
12oz Double Wall Hot Cup (220ml) 500ct
Fits approx 330ml
Cup diameter at top=90mm
Cup diameter at bottom= 60 mm
Cup height= 110mm
Inside 320 g/sqm paper, outside 300 g/sqm paper
Full 4-color print CMYK
Odorless, tasteless, food safe ink
Fits any 90 mm standard lid
25 cups per PET bag
500 cups per box, 18x23.6x14.2, 22lbs
Download 12oz Double Wall Template
16oz Double Wall Hot Cup (450ml) 500ct
Fits approx 450ml
Cup diameter at top=90mm
Cup diameter at bottom= 60 mm
Cup height= 145mm
Inside 320 g/sqm paper, outside 300 g/sqm paper
Full 4-color print CMYK
Odorless, tasteless, food safe ink
Fits any 90 mm standard lid
25 cups per PET bag
500 cups per box, 18x23.6x14.2, 22lbs
20oz Double Wall Hot Cup (550ml) 400ct
Fits approx 550ml
Cup diameter at top=90mm
Cup diameter at bottom= 60 mm
Cup height= 165mm
Inside 320 g/sqm paper, outside 300 g/sqm paper
Full 4-color print CMYK
Odorless, tasteless, food safe ink
Fits any 90 mm standard lid
25 cups per PET bag
400 cups per box, 18x23.6x14.2, 22lbs
4oz Paper Cold Cup (118ml) 3000ct
Fits approx 230nl
Cup diameter at top=80mm
Cup diameter at bottom= 57 mm
Cup height= 90mm
Inside 320 g/sqm paper, outside 300 g/sqm paper
Full 4-color print CMYK
Odorless, tasteless, food safe ink
Fits any 80 mm standard lid
25 cups per PET bag
500 cups per box, 18x23.6x14.2, 22lbs
7oz Paper Cold Cup (207ml) 2000ct
Fits approx 230nl
Cup diameter at top=80mm
Cup diameter at bottom= 57 mm
Cup height= 90mm
Inside 320 g/sqm paper, outside 300 g/sqm paper
Full 4-color print CMYK
Odorless, tasteless, food safe ink
Fits any 80 mm standard lid
25 cups per PET bag
500 cups per box, 18x23.6x14.2, 22lbs
8oz Paper Cold Cup (220ml) 1000ct
Fits approx 230nl
Cup diameter at top=80mm
Cup diameter at bottom= 57 mm
Cup height= 90mm
Inside 320 g/sqm paper, outside 300 g/sqm paper
Full 4-color print CMYK
Odorless, tasteless, food safe ink
Fits any 80 mm standard lid
25 cups per PET bag
500 cups per box, 18x23.6x14.2, 22lbs
12oz Paper Cold Cup (330ml) 1000ct
Fits approx 230nl
Cup diameter at top=80mm
Cup diameter at bottom= 57 mm
Cup height= 90mm
Inside 320 g/sqm paper, outside 300 g/sqm paper
Full 4-color print CMYK
Odorless, tasteless, food safe ink
Fits any 80 mm standard lid
25 cups per PET bag
500 cups per box, 18x23.6x14.2, 22lbs
16oz Paper Cold Cup (450ml) 700ct
Fits approx 230nl
Cup diameter at top=80mm
Cup diameter at bottom= 57 mm
Cup height= 90mm
Inside 320 g/sqm paper, outside 300 g/sqm paper
Full 4-color print CMYK
Odorless, tasteless, food safe ink
Fits any 80 mm standard lid
25 cups per PET bag
500 cups per box, 18x23.6x14.2, 22lbs
20oz Paper Cold Cup (550ml) 700ct
Fits approx 230nl
Cup diameter at top=80mm
Cup diameter at bottom= 57 mm
Cup height= 90mm
Inside 320 g/sqm paper, outside 300 g/sqm paper
Full 4-color print CMYK
Odorless, tasteless, food safe ink
Fits any 80 mm standard lid
25 cups per PET bag
500 cups per box, 18x23.6x14.2, 22lbs