---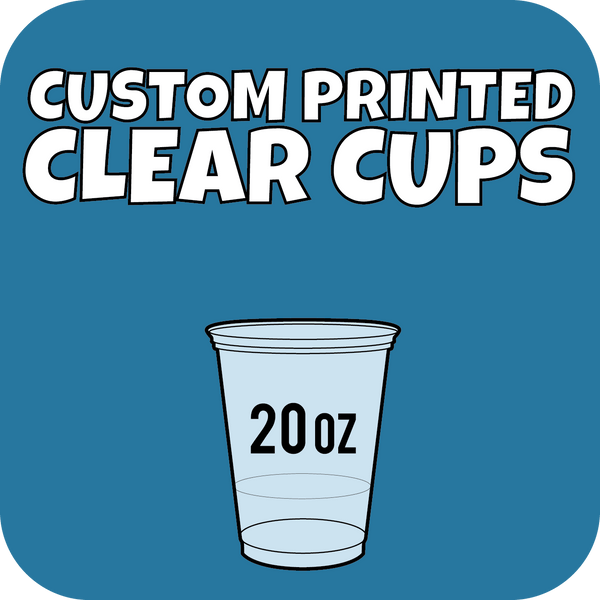 These 20oz Clear Plastic drink cups with custom logo are manufactured in the United States and we offer wholesale pricing with low minimums.  We can print up to six colors on the cups with double sided printing, and each case pack contains 1000 cups with delivery included. They are perfect for coffee shops, restaurants and catering companies who want to offer branded takeaway cups to their customers. 

It is important for restaurants to use branded takeaway cups as it helps to create a recognizable and branded look for their customers. It also serves as a great marketing tool, increasing the visibility of the restaurant's brand. Branded takeaway cups create an overall positive impression for customers, helping to make the restaurant stand out from their competitors.
For a custom quotation feel free to contact or office directly at 567-694-8225 or simply CLICK HERE to submit our quote request.
8oz Double Wall Hot Cup (220ml) 500ct
Fits approx 230ml
Cup diameter at top=80mm
Cup diameter at bottom= 57 mm
Cup height= 90mm
Inside 320 g/sqm paper, outside 300 g/sqm paper
Full 4-color print CMYK
Odorless, tasteless, food safe ink
Fits any 80 mm standard lid
25 cups per PET bag
500 cups per box, 18x23.6x14.2, 22lbs
12oz Double Wall Hot Cup (220ml) 500ct
Fits approx 330ml
Cup diameter at top=90mm
Cup diameter at bottom= 60 mm
Cup height= 110mm
Inside 320 g/sqm paper, outside 300 g/sqm paper
Full 4-color print CMYK
Odorless, tasteless, food safe ink
Fits any 90 mm standard lid
25 cups per PET bag
500 cups per box, 18x23.6x14.2, 22lbs
Download 12oz Double Wall Template
16oz Double Wall Hot Cup (450ml) 500ct
Fits approx 450ml
Cup diameter at top=90mm
Cup diameter at bottom= 60 mm
Cup height= 145mm
Inside 320 g/sqm paper, outside 300 g/sqm paper
Full 4-color print CMYK
Odorless, tasteless, food safe ink
Fits any 90 mm standard lid
25 cups per PET bag
500 cups per box, 18x23.6x14.2, 22lbs
20oz Double Wall Hot Cup (550ml) 400ct
Fits approx 550ml
Cup diameter at top=90mm
Cup diameter at bottom= 60 mm
Cup height= 165mm
Inside 320 g/sqm paper, outside 300 g/sqm paper
Full 4-color print CMYK
Odorless, tasteless, food safe ink
Fits any 90 mm standard lid
25 cups per PET bag
400 cups per box, 18x23.6x14.2, 22lbs
4oz Paper Cold Cup (118ml) 3000ct
Fits approx 230nl
Cup diameter at top=80mm
Cup diameter at bottom= 57 mm
Cup height= 90mm
Inside 320 g/sqm paper, outside 300 g/sqm paper
Full 4-color print CMYK
Odorless, tasteless, food safe ink
Fits any 80 mm standard lid
25 cups per PET bag
500 cups per box, 18x23.6x14.2, 22lbs
7oz Paper Cold Cup (207ml) 2000ct
Fits approx 230nl
Cup diameter at top=80mm
Cup diameter at bottom= 57 mm
Cup height= 90mm
Inside 320 g/sqm paper, outside 300 g/sqm paper
Full 4-color print CMYK
Odorless, tasteless, food safe ink
Fits any 80 mm standard lid
25 cups per PET bag
500 cups per box, 18x23.6x14.2, 22lbs
8oz Paper Cold Cup (220ml) 1000ct
Fits approx 230nl
Cup diameter at top=80mm
Cup diameter at bottom= 57 mm
Cup height= 90mm
Inside 320 g/sqm paper, outside 300 g/sqm paper
Full 4-color print CMYK
Odorless, tasteless, food safe ink
Fits any 80 mm standard lid
25 cups per PET bag
500 cups per box, 18x23.6x14.2, 22lbs
12oz Paper Cold Cup (330ml) 1000ct
Fits approx 230nl
Cup diameter at top=80mm
Cup diameter at bottom= 57 mm
Cup height= 90mm
Inside 320 g/sqm paper, outside 300 g/sqm paper
Full 4-color print CMYK
Odorless, tasteless, food safe ink
Fits any 80 mm standard lid
25 cups per PET bag
500 cups per box, 18x23.6x14.2, 22lbs
16oz Paper Cold Cup (450ml) 700ct
Fits approx 230nl
Cup diameter at top=80mm
Cup diameter at bottom= 57 mm
Cup height= 90mm
Inside 320 g/sqm paper, outside 300 g/sqm paper
Full 4-color print CMYK
Odorless, tasteless, food safe ink
Fits any 80 mm standard lid
25 cups per PET bag
500 cups per box, 18x23.6x14.2, 22lbs
20oz Paper Cold Cup (550ml) 700ct
Fits approx 230nl
Cup diameter at top=80mm
Cup diameter at bottom= 57 mm
Cup height= 90mm
Inside 320 g/sqm paper, outside 300 g/sqm paper
Full 4-color print CMYK
Odorless, tasteless, food safe ink
Fits any 80 mm standard lid
25 cups per PET bag
500 cups per box, 18x23.6x14.2, 22lbs