---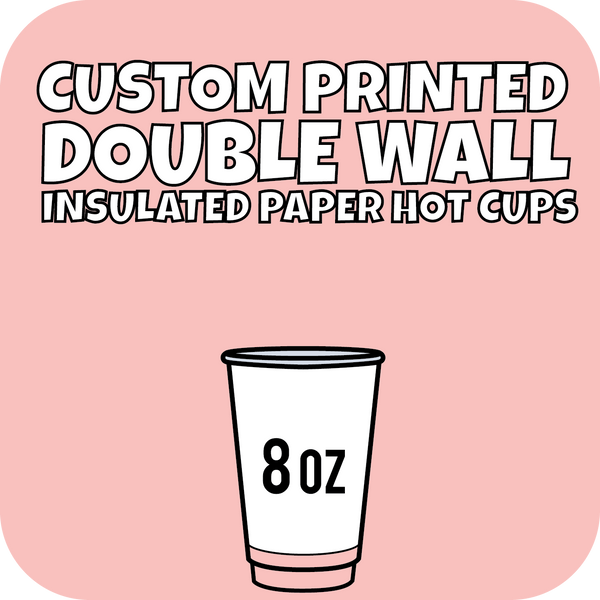 Our print capabilities on Double Wall Insulated Paper Cups starts at just 2 cases with various volume pricing breaks as indicated. These 8oz Double Wall Cups are packed 500ct per case. All Pricing includes shipping.  All Insulated Hot Cups are available in full color dynamic digital wrap print and provide an insulated option for hot beverages including coffee and teas. We offer two styles which include gloss* or matte* finish.  Double Wall Custom Printed Cups offer a low cost "no sleeve required" solution for branding your coffee shop, fast casual establishment, or special event. If you are seeking additional information or need to chat- our cup concierge is available to address and of your custom printed cups needs.  Orders over 30 cases we can provide you a special pricing options, for a custom quotation simply CLICK HERE or contact our office directly at 567-694-8225
If you are seeking additional solutions for promotional items or custom branded packaging- we offer numerous printed items, lets get in touch.
Please note that we have a flat $99 setup charge on each new print- this covers the basic cost of full color digital printing plate. ReOrders of 5,000pcs or more the setup fee is waived.
 Need a Design Template for Custom Printed Double Wall Cups CLICK HERE
*Please keep in mind when ordering. Gloss prints are printed on pure white paperboard with a shiny finish. Matte is printed on slightly off white recycled paperboard with a dull uncoated finish.  Final print colors may be affected slightly due to the difference in substrate.
8oz Double Wall Hot Cup (220ml) 500ct
Fits approx 230ml
Cup diameter at top=80mm
Cup diameter at bottom= 57 mm
Cup height= 90mm
Inside 320 g/sqm paper, outside 300 g/sqm paper
Full 4-color print CMYK
Odorless, tasteless, food safe ink
Fits any 80 mm standard lid
25 cups per PET bag
500 cups per box, 18x23.6x14.2, 22lbs
12oz Double Wall Hot Cup (220ml) 500ct
Fits approx 330ml
Cup diameter at top=90mm
Cup diameter at bottom= 60 mm
Cup height= 110mm
Inside 320 g/sqm paper, outside 300 g/sqm paper
Full 4-color print CMYK
Odorless, tasteless, food safe ink
Fits any 90 mm standard lid
25 cups per PET bag
500 cups per box, 18x23.6x14.2, 22lbs
Download 12oz Double Wall Template
16oz Double Wall Hot Cup (450ml) 500ct
Fits approx 450ml
Cup diameter at top=90mm
Cup diameter at bottom= 60 mm
Cup height= 145mm
Inside 320 g/sqm paper, outside 300 g/sqm paper
Full 4-color print CMYK
Odorless, tasteless, food safe ink
Fits any 90 mm standard lid
25 cups per PET bag
500 cups per box, 18x23.6x14.2, 22lbs
20oz Double Wall Hot Cup (550ml) 400ct
Fits approx 550ml
Cup diameter at top=90mm
Cup diameter at bottom= 60 mm
Cup height= 165mm
Inside 320 g/sqm paper, outside 300 g/sqm paper
Full 4-color print CMYK
Odorless, tasteless, food safe ink
Fits any 90 mm standard lid
25 cups per PET bag
400 cups per box, 18x23.6x14.2, 22lbs
4oz Paper Cold Cup (118ml) 3000ct
Fits approx 230nl
Cup diameter at top=80mm
Cup diameter at bottom= 57 mm
Cup height= 90mm
Inside 320 g/sqm paper, outside 300 g/sqm paper
Full 4-color print CMYK
Odorless, tasteless, food safe ink
Fits any 80 mm standard lid
25 cups per PET bag
500 cups per box, 18x23.6x14.2, 22lbs
7oz Paper Cold Cup (207ml) 2000ct
Fits approx 230nl
Cup diameter at top=80mm
Cup diameter at bottom= 57 mm
Cup height= 90mm
Inside 320 g/sqm paper, outside 300 g/sqm paper
Full 4-color print CMYK
Odorless, tasteless, food safe ink
Fits any 80 mm standard lid
25 cups per PET bag
500 cups per box, 18x23.6x14.2, 22lbs
8oz Paper Cold Cup (220ml) 1000ct
Fits approx 230nl
Cup diameter at top=80mm
Cup diameter at bottom= 57 mm
Cup height= 90mm
Inside 320 g/sqm paper, outside 300 g/sqm paper
Full 4-color print CMYK
Odorless, tasteless, food safe ink
Fits any 80 mm standard lid
25 cups per PET bag
500 cups per box, 18x23.6x14.2, 22lbs
12oz Paper Cold Cup (330ml) 1000ct
Fits approx 230nl
Cup diameter at top=80mm
Cup diameter at bottom= 57 mm
Cup height= 90mm
Inside 320 g/sqm paper, outside 300 g/sqm paper
Full 4-color print CMYK
Odorless, tasteless, food safe ink
Fits any 80 mm standard lid
25 cups per PET bag
500 cups per box, 18x23.6x14.2, 22lbs
16oz Paper Cold Cup (450ml) 700ct
Fits approx 230nl
Cup diameter at top=80mm
Cup diameter at bottom= 57 mm
Cup height= 90mm
Inside 320 g/sqm paper, outside 300 g/sqm paper
Full 4-color print CMYK
Odorless, tasteless, food safe ink
Fits any 80 mm standard lid
25 cups per PET bag
500 cups per box, 18x23.6x14.2, 22lbs
20oz Paper Cold Cup (550ml) 700ct
Fits approx 230nl
Cup diameter at top=80mm
Cup diameter at bottom= 57 mm
Cup height= 90mm
Inside 320 g/sqm paper, outside 300 g/sqm paper
Full 4-color print CMYK
Odorless, tasteless, food safe ink
Fits any 80 mm standard lid
25 cups per PET bag
500 cups per box, 18x23.6x14.2, 22lbs